The 152 km Trail runs in an arc through the valleys between Middlemarch and Clyde; you can traverse it in either direction, or just do part of the Trail.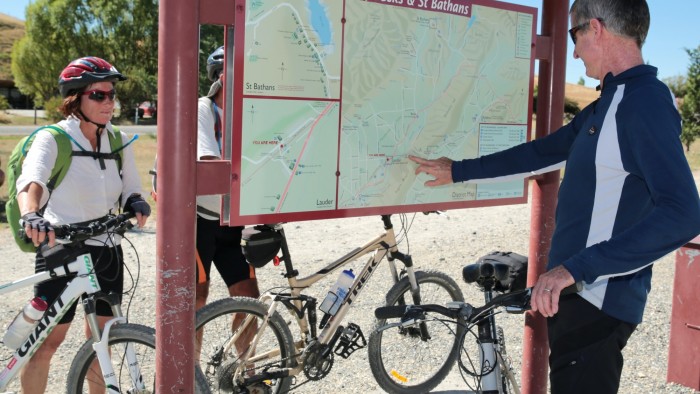 The Middlemarch Rail Trail start/finish point is located 400 ms north of the Railway Station, while the Clyde start/finish point is at the corner of Springvale Road and the main highway.
With road transport support you can join the Trail at various places where there is road access and/or car parking allowing good access for best half-day or one-day trips.
The following information gives the distance in km of each Trail section and provides a time estimate based on the average cycling speed of 10 kph or average walking speed is of 4-6 kph.
Cycling Time / Distance in km on the Trail in sections
Clyde Railhead to Alexandra - 8km - cycling 50mins - walking 1hr 40mins
Alexandra to Chatto Creek - 17km - cycling 1hr 45mins - walking 3hrs 30mins
Chatto Creek to Omakau - 12km - cycling 1 hr 10 mins - walking 2hr 20mins
Omakau to Lauder - 7km - cycling 45 mins - walking 1 hr 30 mins
Lauder to Auripo - 10.5km - cycling 1 hr - walking 2 hrs
Auripo to Oturehua - 12km - cycling 45mins - walking 1hr 30mins
Oturehua to Wedderburn - 12km - cycling 45mins - walking 1hr 30mins
Wedderburn to Ranfurly 13.5km - cycling 1hr 20mins - walking 2hrs 40mins
Ranfurly to Kokonga - 18km - cycling 1hr 50mins - walking 3hrs 40mins
Kokonga to Hyde - 14.5km - cycling 1hr 30mins - walking 3hrs
Hyde to Rock and Pillar - 14km - cycling 1hr 25mins - walking 2hrs 50mins
Rock and Pillar to Middlemarch - 13.5km - cycling 1hr 20mins - walking 2hrs 40mins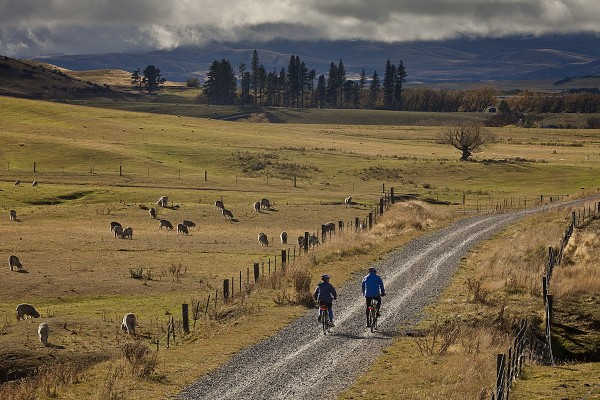 Road distances – to key points with vehicle access to the Trail - for those who want to meet/drop off/pick up cyclists -
Queenstown to Clyde - 83km
Dunedin to Clyde - 199km
Clyde to Middlemarch - 151km
Clyde to Alexandra - 9km
Alexandra to Omakau - 27km
Omakau to Lauder - 7km
Lauder to Thurlow Road - 27km
Thurlow Road to Oturehua - 19km
Oturehua to Wedderburn - 11km
Wedderburn to Ranfurly - 14km
Ranfurly to Kokonga - 22km
Kokonga to Hyde - 13km
Hyde to Rock and Pillar - 13.8km

Rock and Pillar to Middlemarch - 14.3km
Middlemarch to Dunedin - 80km