You don't have to be into extreme sports – but as with any activity, the fitter you are the more you will enjoy the Trail. 
Fitness
It is a good idea to take a few weeks to get bike fit before you complete the trail. You do not have to be super fit as the Trail is rated Grade 1 – Easy, however the more accustomed you are to a bike seat the more you will enjoy the trip.
If you haven't been on a bike for a long time it's a good idea to practise before you go – borrow or hire a bike if you have to. Modern bikes have a lot more gears, which can be a bit tricky to start with – however, the Trail's slopes are gradual and there are no sudden dips that need quick gear changes. Lots of older people have done the Trail, as well as younger children (past the trainer-wheel stage).
As the Trail was a train track there are no steep hills, but some of the long gentle climbs will require some energy, especially if you encounter a head-on wind. If you are not a strong cyclist you may need to hop off your bike and push it up some slopes (e.g. Tiger Hill), also you may feel safer doing this where there are not steep embankments (not many of these) or high bridges, or on exposed places in a strong wind – and everyone should walk through the darker tunnels.
How far you travel in one day will also depend on your level of fitness. If you pace yourself well and don't try to cover too much ground in one day your body will thank you. Many people allow themselves 3 – 5 days to cover the whole 152 km. The average speed for most of us is 10 kph, so 5 hours cycling in a day would take you 50 km. Some people like a slower pace, and want a longer time to relax or go exploring. The choice is yours.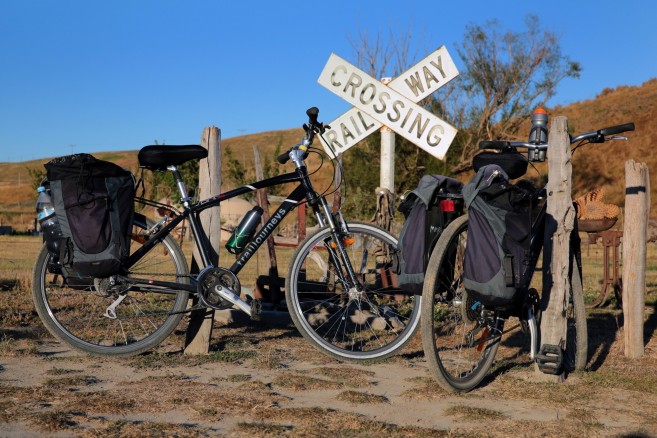 Gear
What gear do you really need? Everyone you meet will be on an outdoor holiday – in the south that means casual! But bring some "après biking" clothes if you really want to but don't forget the gear that is really important;

Plenty of water, especially in hot weather, there is not a lot of shade in some places.
Take your own trail-food/energy snacks – there are not a lot of shops along the Trail especially between Waipiata and Middlemarch (51 km).
Clothing needs to be comfortable and loose – layers of light clothing that you can add or take off are versatile. Throw in a warm top and hat, gloves in cooler seasons, and a light wind-proof jacket could be useful at any time.
Padded bike shorts are a godsend and gel seats are popular
Trail users must wear bike helmets (included in bike hire) – also useful in spring nesting time, when you pass Magpies guarding their trees. Just move along quickly.
You will need need sunscreen, sunglasses, and a sunhat for when you stop.
Take a torch for the darker tunnels, a small first-aid kit, and toilet paper as it is not provided in the Trail toilets.
Always handy to have puncture repair capability or a spare tube.