Cross Latitude 45° South (twice), reach the highest point, admire the great views of the Hawkdun and Ida Mountains, then it's all downhill to the "Big Sky Country" of the Maniototo.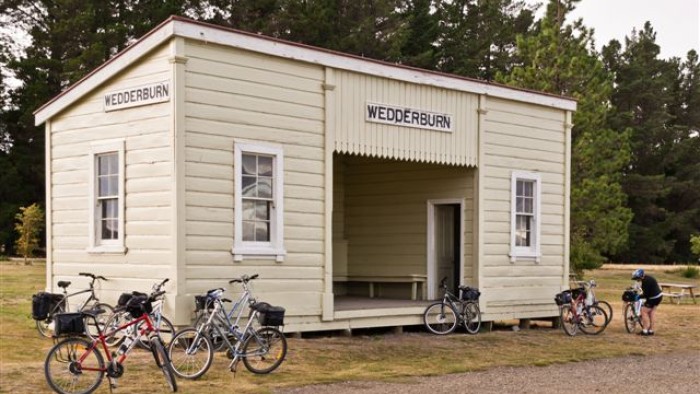 Wedderburn
About Wedderburn
The summit of the Trail (just northwest of Weddderburn) may be 618 m above sea level, but it is a gentler climb than Tiger Hill. Give yourself a pat on the back, get your photo taken and prove you made it! Stop off at the Red Barn (near the Wedderburn Cottages) – it has been set up to welcome "Rail Trailers" and offers local information, coffee, water, toilets - and it's a great place to take a break. For those staying longer, it's also a pick up point for 4-W drive tours to the high country, farms, fishing, golf or trips to nearby Naseby, Danseys Pass, and more.
Beside the road crossing you will find the Wedderburn Tavern - this community originated from a hotel built here in 1862 for coach travellers. And of course, there is the original station building and the Wedderburn goods shed that is the iconic image of the Maniototo, made famous by artist, Grahame Sydney.
Food and Accommodation
Wedderburn Lodge and Cottages (self-contained)
Lorraine, Stu, Alison and Graeme Duncan welcome you to Wedderburn Cottages' accommodation based in the Ma…
Wedderburn Tavern
Built in 1885, the historic Wedderburn Tavern is situated in the heart of the Maniototo Plain on the Cent…
Wedderburn Farm Stay
FAMILY ADVENTURE DEAL: $20 Off for kids from 20th December 2023 to 29th January 2023.  Terms & Condition …