Jocelyn Newman is a mom, travel enthusiast, and entrepreneur from San Francisco. She's the founder of First Peak, a line of sustainable adventurewear for babies and toddlers. She recently completed the trail with her husband and son, with her little one wearing First Peak the whole way. Check them out at firstpeak.co or @firstpeakbaby on Instagram. 
My family just wrapped up our 6-day trek on the Otago Central Rail Trail, taking the well-trodden route and visiting many popular destinations along the way. The scenery was beautiful, the path an invigorating challenge, and the hospitality unmatched. But one detail was a bit atypical about our group: we had a 2-year-old in tow.
While bike trekking may feel a little crazy with a young child, this route is a great place to start. For more about why we bike trek and how we prepare, check out my other post, published last Sunday. For details about our itinerary, read on:
Our Route in Summary:
We completed the trail in 6 days. Here was our route at a high level:
Clyde → Omakau → Oturehua → Naseby → Waipiata → Middlemarch
I'll note that we spent one extra night in Omakau, to let our son settle in before being in a new home each night. We did a day ride that day, and all other legs were to the next destination.
You'll also notice that our distances varied widely, but no day exceeded about 4 hours of cycling. This route could comfortably be shortened to 4 or 5 days as needed.
Getting to the rail trail
We arrived in Clyde from Queenstown on an Intercity bus, and ultimately shuttled back to Clyde and took that same bus back to Queenstown. The bus travel was easy and efficient: our 8am bus to Clyde had us at the rental shop and on the road by 10:15am.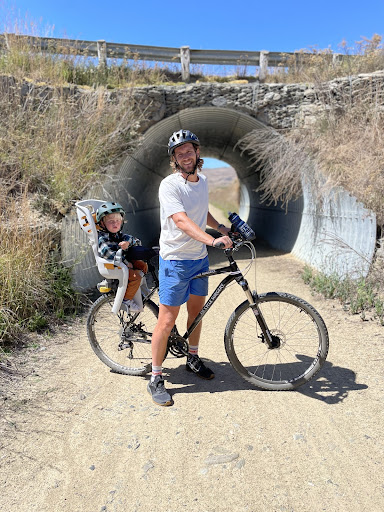 Days 1-2: Clyde to Omakau
Details:
- Distance: About 35k
- Route: We rode the River Route until getting on the rail trail at Alexandra
- Accommodation: Omakau Bedpost
- Dinners: Muddy Waters Cafe, Pitches Store
Our opening leg of the trip didn't disappoint. We took the river route out of Clyde and enjoyed the tree-covered dirt path for that first segment. We then joined up with the rail trail and got introduced to the path we'd take for the next near-week: it's incredibly well-marked and well-maintained, with regular bathroom and shade stops along the way.
A few toddler-friendly treats on this leg:
- Going to the town pool in Ophir for some swimming after our ride
- Soaring off the rope swing on the banks of the Manuherikia River (my son is still talking about "mama went flying")
- The ample toy bins and play spaces at Chatto Creek Tavern and Pitches Store
Day 3: Omakau to Oturehua
Details:
- Distance: About 30k
- Route: We rode entirely on the rail trail
- Accommodation: Inverlair Lodge
- Dinner: Oturehua Railway Hotel
Our ride out of Omakau was action packed. We climbed to the top of the Poolburn Gorge before beginning our descent through the pitch-black mining tunnels cutting through the mountainside. We took an extended lunch at Hayes Engineering Works, experiencing a taste of history alongside delicious pies and sweets.
A few toddler-friendly treats on this leg:
- Cycling through the pitch-dark tunnels exiting the Poolburn Gorge
- Stopping at Hayes Engineering Works to admire the machinery and feed the goats
- Getting a tractor ride from a friendly local at the Oturehua Railway Hotel
Day 4: Oturehua to Naseby
Details:
- Distance: About 25k
- Route: We rode on the rail trail until just past Wedderburn, and then got onto the Ranfurly-Naseby Rd
- Accommodation: Naseby Lodge
- Dinner: Wedderburn Tavern
We veered a bit off the standard route on Day 4, leaving the rail trail to visit pine-covered Naseby. We made this choice because the accommodations in Naseby were able to guarantee a port-a-cot, and because we wanted to visit the town deemed the "the jewel of Maniototo." This introduced a bit of a climb on the paved road into town, where we were rewarded with lovely green spaces and great snacks.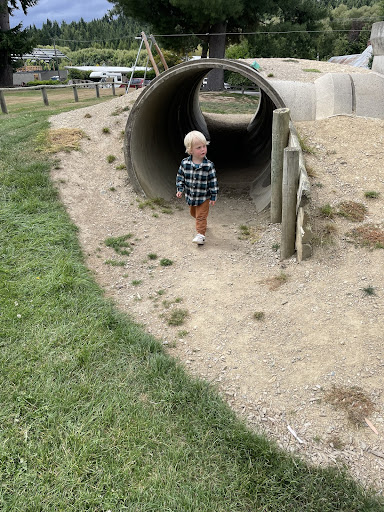 A break at the Naseby Playground
A few toddler-friendly treats on this leg:
- Enjoying the spacious playground in Naseby's town center, including a zip line
- Getting ice cold fruit smoothies at Black Forest Cafe
- Sliding some stones at the year-round curling center, the only indoor curling in the southern hemisphere
Day 5: Naseby to Waipiata
Details:
- Distance: About 20k
- Route: We took Ranfurly-Naseby Rd to Ranfurly and then got back on the rail trail
- Accommodation: Waipiata Motel
- Dinner: Waipiata Country Hotel
This day led us back to the rail trail in Ranfurly, where we were also able to stop and enjoy some of the fresh apricots we'd purchased at a roadside stand at the edge of town. We continued for the brief ride into Waipiata, where we had a full afternoon to explore and rest up before our final and longest day on the route.
A few toddler-friendly treats on this leg:
- Walking alongside four friendly ducks at the Waipiata Motel
- Skipping rocks on the Tairei River in the late afternoon
- Playing with a gaggle of young kids on the lawn at the Waipiata Country Hotel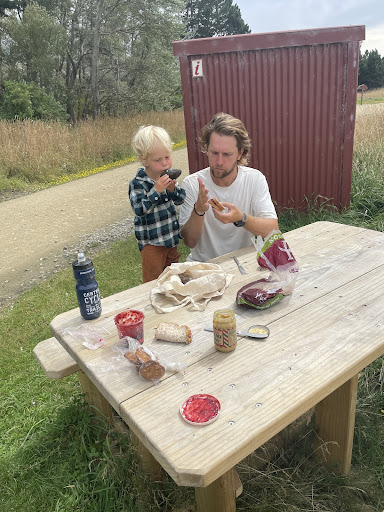 Picnic Lunch at Rock & Pillar Station
Day 6: Waipiata to Middlemarch
Details:
- Distance: About 55k
- Route: We rode entirely on the rail trail
- Accommodation: Middlemarch Lodge
- Dinner: Strath Taieri Hotel
This last leg was our favorite: a good challenge, stunning and varied scenery, and a lovely picnic spot on the way. It felt like we were riding through wildflowers for the last hour at least. We celebrated our arrival in Middlemarch with cold beers and popsicles, and packed up for our trip back to Clyde.

A few toddler-friendly treats on this leg:
- Purchasing homemade cookies from a road-side stand on the way out of Waipiata
- Enjoying a picnic lunch midway at Rock and Pillar Station
- Stopping to pick wildflowers before the final stretch into Middlemarch
Victory Finish at Middlemarch for the Newman whānau (family)

There you have it: a manageable 6 days of time together as a family, taking in stunning nature. There wasn't a single day so long as to have to really push it, and there were plenty of lovely spots for breaks and snacks along the trail. Before you say your child is too young to try this route, reconsider. It made for a wildly satisfying and joyous week together.