Family Fun on New Zealands Otago Central Rail Trail written by Jessie McRae for We Are Explorers. Jessie and 11 other members of her family, between the ages of eight and 81, took a five day bikepacking trip together along the Otago Central Rail Trail. If that ain't wholesome, I don't know what is.

Written by Jessie McRae for We Are Explorers
Highlights:
Family friendly terrain
Incredible views of the countryside
Finishing each day with a frosty, cold beer! (if you're so inclined)
Family Ties on The Otago Central Rail Trail
Set across the ditch in central Otago, the former Otago Central Railway is now a popular off-road cycle and walking trail.
It's a fantastic route which passes through old historic gold-mining villages and country pubs that offer classic Kiwi hospitality.
Aiming to see another side of the country most of my family have called home at some point in their lives, we decided to cycle from Clyde to Middlemarch on a truly memorable family holiday.


Day 1 – Clyde to Ophir
Distance: 39km
We departed Clyde before lunch, eager to get riding on what would be our longest day in the saddle. For much of the first part of the day, the path is flat and straight. There's plenty of room to ride two or three across, and barely any other traffic coming the other way, so it's easy to chat with your fellow riders as you oil out your rusty legs.
Towards the end of the day you'll reach the steepest part of the trail, Tiger Hill, which stretches from Chatto Creek to Omakau. The gradient of this incline isn't so much the issue, but the distance.
The highest point of the trail doesn't come until day three, but Tiger Hill is the most obvious incline you'll face, so take comfort in knowing your burning quads are justified and Ophir is less than 15km away.
If you're in a small group, Blacks Hotel is a convenient spot to stay.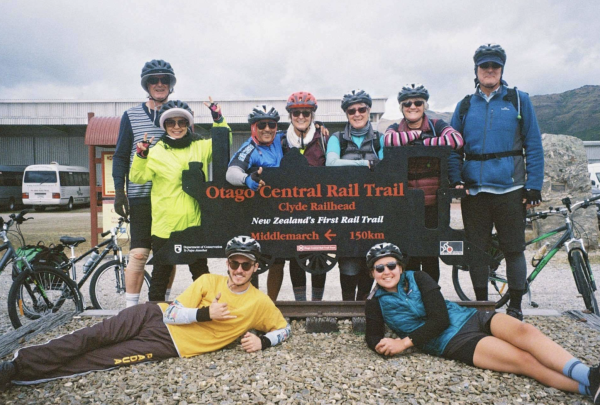 Day 2 – Ophir to Oturehua
Distance: 33km
Blue skies greeted us in all directions today, making it easy to jump back on the bike for another day of gravel grinding. After the first tunnel, the trail follows along a deep gully that's filled with the type of flowing water that makes you wish you'd brought a packraft. Nonetheless, continuing through the classic Kiwi countryside toward Oturehua on wheels is equally rewarding.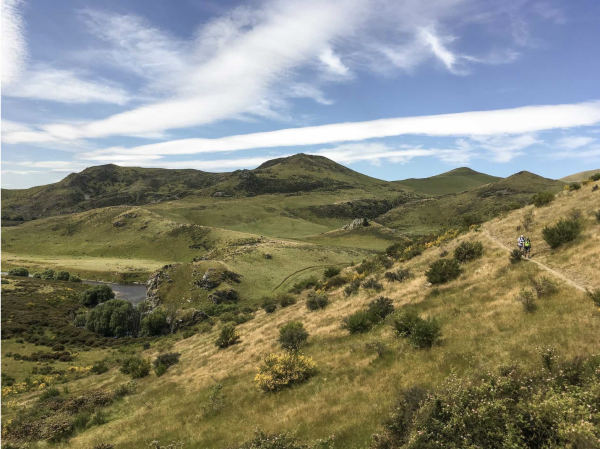 Passing through Lauder you might feel as though you're breathing a little easier, that the sky is a little bluer, and you wouldn't be wrong! It's actually a base for climate research, with the clear skies and geographical location making it an ideal location for studying atmospheric radiation and chemistry.
If you're intending on freedom camping the rail trail, this is one of the best places to pitch up – the lack of light pollution means the star gazing's got to be good.
Once at Poolburn Gorge, you'll ride 17km through Ida Valley to Oturehua. The Hawkdun Mountains make an epic backdrop for this section, particularly if they've had a sprinkling of snow. When you reach Oturehua, don't forget to check out Gilchrist's General Store for a range of old school lollies, classic Kiwi foods, and throwback memorabilia.
We stayed at The Crow's Nest Backpackers, a quaint spot within walking distance of Oturehua Railway Hotel (aka the pub).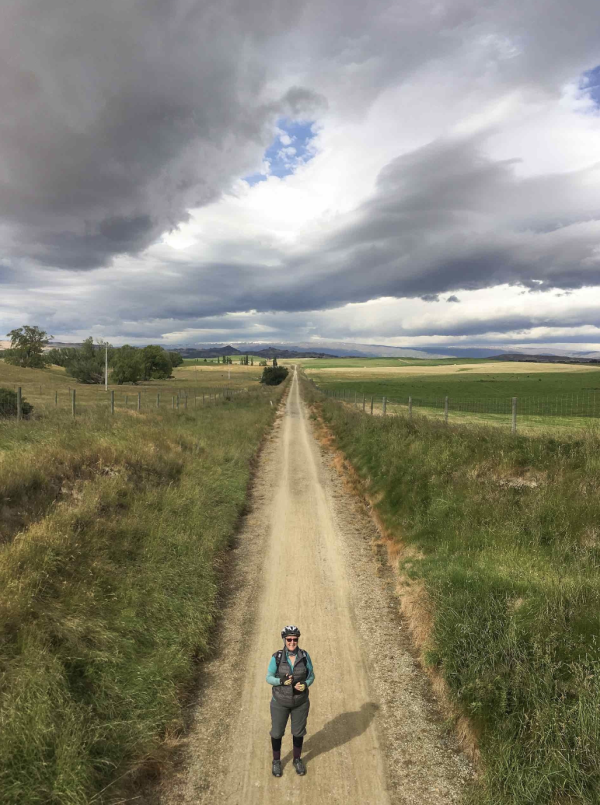 Day 3 – Oturehua to Ranfurley
Distance: 25.5km
Day 3 brought rain and wind, but nothing that a crew of 12 with ALDI rain jackets couldn't handle. This section of the trail is rather notorious for high winds and rain, as it crosses the latitude 45 degree south. If you're lucky, the side wind that hits you in the open clearings will turn into a tailwind, but best not to count on it.
After 12km you'll reach Wedderburn, the highest point on the trail at 618m above sea level. From there it's all downhill, making it easy to reach Ranfurly for a late lunch and restful afternoon. We stayed at Ranfurly Holiday Park & Motels, where you have the choice of cabins or camping.
Having a shorter day was great for our party, ensuring any niggling injuries could be rested and providing an opportunity for other towns in the area to be explored. But if you're reasonably fit it wouldn't be too hard to skip this stop and push on to Hyde for a four day journey. As one member of my family put it, '25km is too short. You can only sing 30 songs in that time and I want to sing more!'.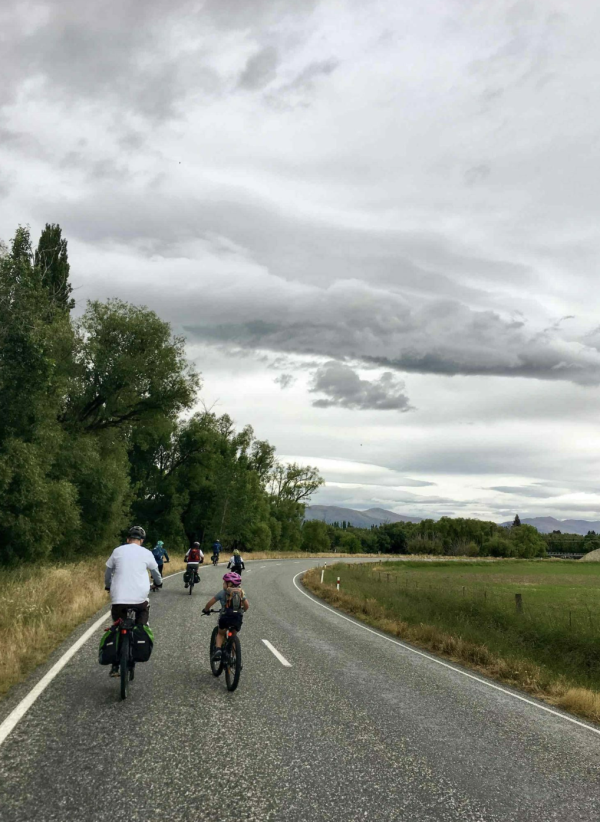 Day 4 – Ranfurly to Hyde
Distance: 32.5km
The dropping elevation in this section might fool you enough to believe it's 'leisurely biking', but there are still a few undulating sections that'll get your heart rate up.
You'll pass through the towns of Waipiata (the Country Hotel is a great spot for lunch), Kokonga, and Daisybank before reaching Tiroiti, which I think is one of the most scenic sections of the entire trail. It's marked by a red gangers' shed, which has some historic information on the rail trail and is nice to seek shelter in.
A short but steep walking track leading down to the river lies just before Prices Creek Tunnel. Years ago, Chinese gold miners cut a tunnel into the rock on the mountainside and consequently diverted the water to create a pretty badass section of white water rafting in the process. Worth jumping off the bike to see before pushing on passed white clay cliffs to Hyde.
If you're lucky enough to stay at the Otago Central Hotel in Hyde, say hi to Jan and Dean from us (the motley crew of 12 wearing matching shirts), and enjoy a home cooked meal and a cold glass of the good stuff to celebrate your last night on tour.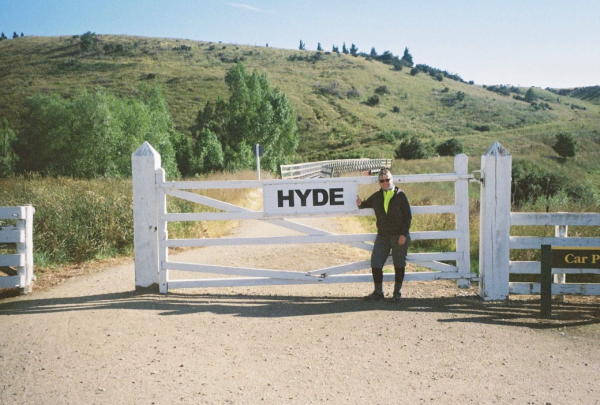 Day 5 – Hyde to Middlemarch
Distance: 22km
Some bikes couldn't stand up today because they were two tyred … but seriously, after riding the past four days there was a sense of 'destination fever' amongst some members of the group. After the first 2km you'll reach Hyde Station and then it's onto endless fields of rolling green hills. There's plenty of sheep in New Zealand, and I think a third of them must reside along this section of the rail trail.
Being all downhill, it took our group less than two hours to reach Middlemarch. If I'm being honest, the end of the trail is a little disappointing. It's a roadside sign 400 metres out of Middlemarch, but once you see it, it's hard not to feel a sense of gratitude and achievement for the past 152km of Kiwi countryside cycling.
This trail is great, but what really makes it worth doing are the people you meet along the way, the towns you visit, and the food on offer. It wouldn't be the same to simply drive through these towns – you can't appreciate this rugged land and its people in the same way – and that's why it's so worth doing if you want to experience the heart of Aotearoa.


Essential Gear
Bike + helmet (there are rail trail companies who can provide these items if you're travelling from overseas or don't have an appropriate bike for the trail)
Rain gear (ponchos are a bit difficult to ride in, so I'd recommend wearing a shorter rain jacket)
Thermals (summer in Aotearoa is a bit like Melbourne, so best come prepared for anything)
Non-Essential (But Encouraged) Gear Lycra

How To Get There
To/From Clyde – There are many coach and bus companies that offer regular services between Queenstown and Dunedin via Clyde. If you're choosing to complete this journey with the help of a local trail operator (that offer bike hire, itineraries, luggage transfer etc.), then most will have their own coaches that can pick you up and drop you off at various places. Alternatively, you could incorporate this trail as part of a more extensive bikepacking trip through Aotearoa.
To/From Middlemarch – On Fridays and Sundays, the Taieri Gorge Railway runs direct between Middlemarch and Dunedin. Considering this Great Ride was once a route for steam trains, this is an epic way to begin or end your journey. If you've left your car at Clyde, there are shuttle buses that pick up cyclists and return them back to where they started. (NOTE: TAIERI GORGE RAILWAY IS NO LONGER OPERATING)
Skill Level
Intermediate
The youngest member of our party was 8 years old, whilst the oldest was 81 years old! With the accessibility of e-bikes these days, I'd say this trail is pretty much possible for anyone to complete.
In saying this though, a typical three to four day journey will have you cycling 35-40km a day, so you need to have some level of competency on a bike and be fit enough to tackle that.
Distance Covered / Elevation Gain / Duration
The Otago Central Rail Trail is 152km over however many days you'd like! We met some people training for Tour Aotearoa doing the whole thing in a single day, but most cyclists allow three to five days to really enjoy the experience.
The elevation gain is about 400m at a 2% rise (i.e. you won't even feel it if you're an experienced cyclist). The trail was originally built for a steam train, so if something that bulky can make it up the incline, I'm almost certain you'll be able to too.
When I asked my family how long they thought we rode for each day, they replied with 'time didn't matter'. We always set off before midday, normally by 10am, and would arrive at our accommodation by 4pm. Within this 'riding' time was always a decent break for lunch and many, many photo stops.
Written by Jesse McRae for We Are Explorers